Absorbed Dose ALERT System
[ click the picture ]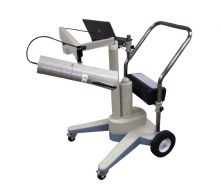 In an emergency involving release of radioactive materials, internal contamination due to inhalation, ingestion or skin absorption is a potential health concern. When a large population is potentially impacted, a critical public health challenge is to provide an initial field screening to rapidly triage and identify individuals with significant amounts of internal contamination. We are proud to announce a measurement solution to this challenge.
The Absorbed Dose ALERT System is a cost effective measuring instrument. It can measure and quantify internal organ burden after a radiologic event and perform assay and MCA functions. The Absorbed Dose ALERT module records demographic data, calculates BMI values, and selects appropriate body type.
Measurements may be performed at thyroid, outer thigh, and back of right lung, and data are currently available for Co-60, Ir-192, Cs-137, and I-131. The software utilizes conversion factors to calculate uCi-intake values from 1 to 30 days after intake. Results will be flagged when user defined trigger levels are exceeded. User can modify default measurement protocols as required to accommodate individual variability.
The Custom Protocol program supports customized measurements and calculations by integrating predefined measurement screens with Microsoft Excel for analysis and report generation. This feature is ideal for post event data analysis.
The Absorbed Dose ALERT System incorporates a light weight portable stand, which folds to fit into a standard van. This feature addresses the need for quick mobilization with easy and convenient modes of transport. The entire system can be assembled or disassembled in less than five minutes. Range of motion supports standing, chair, and gurney positioning.
Fully automated quality assurance program using Cs-137 and Eu-152 rod sources provided with system. QA includes full system calibration, energy resolution, efficiency calculations, constancy, chi-squared, and MDA functions.
1024 channel user friendly Multi-Channel Analyzer provides automatic and manual ROI selection, ability to use stored autocalibration setup, or manually adjust zero, gain, and voltage.
Spectra can be saved and retrieved. An isotope library with data for over 90 isotopes is included.
Bioassay module stores individual efficiencies for bioassay geometry, multiple measurements for each staff individual, and flags values above preset trigger levels.
Optional Wipe Test functions include menu driven format and automatic isotope identification feature. Values above trigger levels will be flagged. (Note: mobile stand does not include well counter).
System also provides data storage and retrieval, archive, and export features. Both summary and individual detail reports are
available.
Optional Dicom interface pulls network patient information and sends reports to PACS.
Software Features:
Detects one annual limit on intake (ALI) in 60 seconds or less
Multiple prompts assure user friendly format
Automatically calculates Body Mass Index (BMI)
Selects appropriate conversion factors based on BMI
Calculates uCi-intake at elapsed time after event
Data currently available for following categories:

Isotopes: Co-60, Ir-192, Cs-137, and I131
Organ sites: thyroid, lung, and outer thigh
Elapsed time: day 1 through day 30 after intake
Results flagged if values exceed trigger levels

Archive, storage and data retrieval features
Specialized export features transfer data directly to Excel
Flexible report formats, detailed and summary
Custom Protocol module
Fully automated quality assurance program
Thyroid uptake with multiple protocol choices
Bioassay program
1024 channel MCA with manual and automated controls
Password protected
Hardware Features:
2 inch diameter flat NaI detector
Collimator designed to meet ANSI N44.3
Laptop computer
External MCA card with USB interface
Isolation transformer
Unique tip proof design
Articulating spring arm, with 3 adjustable joints
Range of motion for gurney, chair or standing positions
Portable stand, which folds for transport and storage
Weight @ 120 pounds
Locking wheels
Assembled in less than 5 minutes
Includes Cs-137 and Eu-152 reference standards
Optional Accessories:
Locking carrying cases
Rod source holder
Absorbed Dose ALERT System w/Portable Stand- Item # 5430-2127
Absorbed Dose ALERT System software (for current Captus® 3000 users)- Item # 0960-0177