Captus® 3000 Reports (1)
[ click the picture ]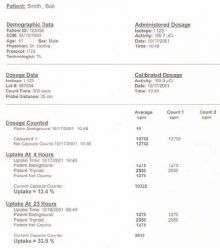 Auto Calibration For Well
The Autocalibrate module provides high voltage, zero offset and automatic gain adjustment; as well as a linearity correction and constancy test. Also includedin QA are automatic chi-square and MDA calculation selections. Finally, the program has the ability to automatically perform efficiency calculation and storage for various isotopes.
Thyroid Uptake Report
In this module multiple TU protocols can be established utilizing I-123, I-131 or Tc-99m. The protocols can use a standard capsule method or allow the system to perform an automatic decay correction to the administered dose. The system will store detailed patient demographics, physician data and administered dose data. There is no limit to the number of uptakes that can be performed and the results will be reported with detailed count information and automatic percentage uptake calculations. Also, there are user defined normal values that will be compared to the uptake results and "flagged" when the results are out of range.
Wipe History
The highly versatile wipe test module will allow users to establish as many locations as needed and to arrange the locations into either pre-defined or user-defined groupings. The program will perform an automatic peak and isotope identification of wipe results in order to advise the user of the type contamination encountered. There are pre-set trigger levels loaded or the user can define their own trigger levels, either way the results will flag any wipe that exceeds a trigger. Finally, the system will maintain a history of wipe results that can be printed as a whole or in part.