Captus® 700t Thyroid Uptake Table Top System
[ click the picture ]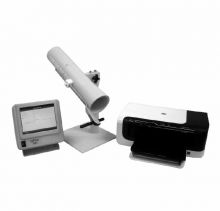 Budget Pleasing... Space Saving
When there is not enough space for a full mobile system, consider the CAPTUS® 700t Table Top System to meet your thyroid and well counting needs. This economical microprocessor-based system is small in size, but big on value with features such as full spectrum viewability on screen while counting.
The CAPTUS® 700t Table Top System contains all of the outstanding features of the mobile system in a sturdy compact table top stand.
Replace that old system with an economical system that easily does thyroid uptakes, labe tests and wipe tests using a 512 channel MCA.
Features
Same outstanding features of the CAPTUS® 700t System
Small foot-print saves space
Easy-to-position collimator when patient is seated
Menu-driven program guides you quickly through all sections

5430-3141 CAPTUS® 700t Thyroid Uptake Table Top System
5430-3142 CAPTUS® 700t Table Top System with Well
5430-0069 Optional 2" Shielding Well Detector Assembly