Captus® 700t Well System Printouts
[ click the picture ]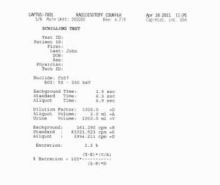 Wipe Test Report
The CAPTUS® 700t easily performs wipe test counting with full cpm/dpm reporting. Thanks to its high performance 512 channel MCA, nuclides are identified automatically. Corresponding ROIs can also be displayed. Whether you choose the dedicated well counter or optional drilled crystal configuration, the CAPTUS® 700t offers you up to 5 wipe categories with adjustable trigger levels for each category, dpm reporting, full spectrum display and complete report printing.
General Measurement
The 512 channel MCA coupled with the large display screen allows full spectrum displays of all your acquisitions. The MCA includes various setups for ROI, automatic peak search and identification programs.
Lab Test Measurements
The CAPTUS® 700t is programmed for a variety of lab tests including Schilling, Blood Volume (Cr-51 or I-125) and Red Blood Cell Survival. Results are automatically calculated and displayed for your review. A printout of the results is also available for patient record keeping.
All lab test modules feature easy step-by-step programs to guide you through each acquisition, eliminating calculations and saving you time!